Play and learn with the programmable Artie 3000 The Coding Robot – creativity and coding combined together in one of the best cool toys to hit the market this year.
Click below to watch Artie 3000 The Coding Robot Review
Artie 3000 The Coding Robot

The
Artie 3000 coding drawing robot
arrives already pre-programmed with entertaining games, designs and shapes. Create your own designs by writing code to program the Artie coding robot to draw your patterns and shapes. Programming the Artie 3000 encourages children to learn and is very easy to code and great fun to be creative with the Artie Coding Robot.
There are a selection of Artie 3000 how-to videos and support online to learn everything about what can be created with the Educational Insights Artie 3000 coding and drawing robot.
Coding The Artie 3000 Robot
The STEAM and STEM approved fun of the Artie 3000 is a great introduction to the basics of coding. Coding the Artie 3000 robot begins with the Artie 3000 drag and drop visual programming interface which will run on your Mac, PC or tablet. Further coding education can be accessed through additional browser based languages including Remote Control, Point & Click, Python, Javascript and Blockly.
Creative and Educational – Drawing and Coding with the Artie 3000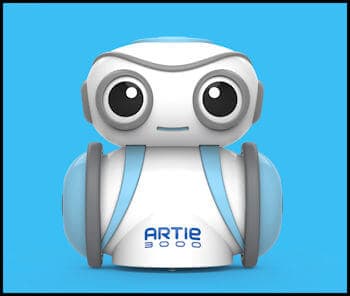 Development of left-brain and right-brain skills are encouraged by learning with the Artie 3000.
This coding and drawing robot stimulates the imagination and encourages creativity while developing logical and analytical skills
Children will love playing with new designs and will naturally develop the creative right brain skills of imagination, expression an creativity through patterns and drawing. Controlling the easy to use technology of the
Artie 3000
intuitively encourages left brain skills of math, geometry and basic programming.
How to Use Artie The Robot
Connect to the Artie 3000 coding robot with your home Wifi network using Mac, PC or tablet
Use the Artie 3000 interface to simply drag and drop segments of code into the app's command area. Program Artie to move forwards or backwards, to turn right and left, and to engage or disengage the pens for drawing.
The interface includes a drawing simulator where you can test your code before letting Artie drawing robot  loose on a sheet of paper to draw the design from your code.
Learn more about coding and drawing with the Artie 3000 videos at the CodeWithArtie website.
The Artie 3000 coding and drawing robot is STEM.org authenticated. Authentication guarantees that the Artie meets the high standards set by STEM.org for goods and services. The Artie 3000 drawing robot carries the STEM.org trustmark, ensuring that parents know that this robot will:
integrate into STEM classrooms and programs
meet STEM standards (Science, Technology, Engineering and Math)
encourage development of 21st Century Skills in children
encourage engagement by collaboration and hands-on learning
pass a third-party unbiased evaluation and review
The Artie 3000 Robot Is . . .
a programmable Artie robot which draws designs from your code
a WiFi-enabled coding and drawing robot; code with drag and drop visual programming software; draw with 4, easily replaced, coloured markers; and quick-start guide
pre-programmed with shapes, games and designs, and you can also create your own custom designs by writing your own code
accompanied by activity cards and a multilingual quick-start guide
recommended for children of ages 7 – 12
battery operated and requires 4 AA batteries (not included)